In addition to offering the convenience of a great location in the Polanco area, Residence L'Heritage Royal Colonial has in its facilities the basic services to make the most of your stay. Review the following list and see what our apartments in Polanco will offer you on your next visit to Mexico City.
Facilities and services
Gym
            
Internet access in public areas
            
Phone
            
Elevators
            
Non-Smoking Rooms
            
Safe box
Security personnel
            
Free parking for our guests (subject to availability)
            
Cleaning service daily
            
Laundry service (self-service $)
            
Breakfast BUFFET , included from 7 to 11 am, every day.
Baggage storage
            
Pets are not allowed
            
Limited reception from 7am to 10pm from Monday to Sunday
            
Ironing service $
            
Rooftop terrace
---
Lounge & Beverage
free from 6pm to 9:30 pm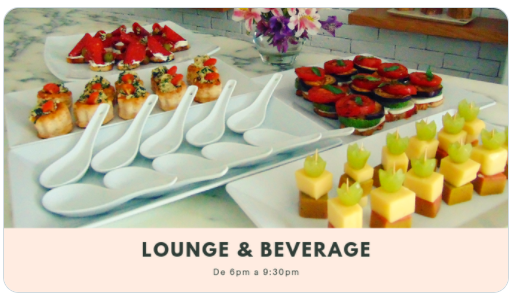 ---
Photo gallery
Location
Our apartments in Polanco are located in the hotel and business zone of this exclusive area of the city, a few steps from Presidente Masaryk Avenue, Parque América and San Agustín Parish. Around the apartments there are a lot of boutiques of prestigious brands such as Louis Vuitton, Hermes, Cartier, Hugo Boss and Gucci.
---
Nearby Places
Restaurantes cercanos
Matisse Polanco: Located on Anatole France street, 3 minutes walk from the apartments, it has an extensive menu of breakfasts, lunches and dinners.
La Casa del Pastor: On the corner of Musset and Masaryk is this restaurant that takes the concept of a taqueria to a higher level.
Tacos Marvichi: It is a famous street stall much more casual and informal, ideal for those who have a nighttime craving for something more traditional and simple. 3 minutes walk from the apartments.
Starbucks: The most famous coffee shop franchise in the world has a branch 2 minutes walk from the apartments.
Sonora Grill Prime: On Avenida Masaryk is this exclusive restaurant with a menu of meat cuts, hamburgers, seafood, salads and a good wine list to accompany it.
Offices and embassies
Belgian Embassy: It is a few steps from the apartments, on Alfredo Musset.
Egyptian Embassy: On Alexander Dumas, 4 minutes walk from the apartments.
Embassy of India: On Musset street, 7 minutes walk from the apartments.
Shopping
MacStore: On Masaryk, 5 minutes from the apartments.
Librerías Gandhi Polanco: On Ave. Masaryk, 2 minutes walk from the apartments.
Pasaje Polanco: Located in Masaryk, a 4-minute walk from the apartments, Pasaje Polanco has accessory stores, restaurants, jewelry stores and more.
El Palacio de Hierro Polanco: 9 minutes walk from the apartments.